**warning - setlist spoilers and excessive verbiage below**
A cold night in Adelaide. I'm keeping a lid on it, though my partner has noticed I've been singing bits of VoN songs in the car all week - "Someone's excited about the gig" she says with a smile.
Standing at my local train station, letting the person in the shelter have the place to herself - a bit too much pacing, ostentatious smoking and lying on the cold bricks of the platform for my taste.
I jump in the train for the all of two stops journey to the iconic Governor Hindmarsh Hotel aka The Gov (I love where we live!)
Ticket taken at the door - place is already almost full..and I discover to my horror, that, as per other Powdies' reports of their experiences, that the floor is covered in chairs. WTF? I've been to many a gig at the Gov - never seen this before.
Most seats are taken (not that I would've sat down anyway). I get a good possie with a direct line of sight to middle of the stage down the aisle in the middle of said offending furniture. Abbe May is doing her thing - alone with a guitar, some prerecorded backing tracks. Not familiar with her work at all, but she's doing a great job - not all phased by the fact that over half the crowd are taking the opportunity to talk over her.
Nor is she phased by the older gent who looks like a grey haired version of this chap, and dressed in Tom Baker-era Dr Who style. He is moving slowly, pumping his arms and, judging by the puffing of his cheeks, appearing to be finding this activity rather strenuous.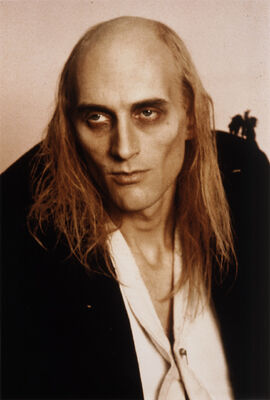 He eventually wanders away from his front row location, and my attention is drawn to a familiar figure being carefully ushered past me. It is SA Premier Jay Weatherill and partner, who are placed in front row seats. Someone speculates as to the reaction of the slow dancer, but he only makes a brief cameo reappearance before being relocated for good by a friendly staff member.
There is some good-natured grumbling about why Jay is getting special treatment - including later in the gents, where someone says the urinal is reserved for the Premier.
Abbe May concludes her set, and despite the apparent chatter-filled indifference of the audience, she is given a deserved round of applause.
During the between act break, I notice a roadie has to reach to full stretch to adjust the mike at the front of stage...wonder who's that could be?
Then...the lights dim, the familiar figure of Martin Rotsey wanders across the stage, the rest of the Alter Egos find their places and finally a tall silhouette approaches the aforementioned mike stand. Hah - it's really happening- PG plays my local!
Kicking off with Kangaroo tail (thanks to Spyro for doing due diligence with the set list), the band are confident from the start, while PG is locking in a little more slowly, but still enjoying himself. His between song patter is still as simultaneously meandering, on point and amusing as ever. Evidence he is a teeny bit on edge comes with his continuous OCDish fiddling with his shirt cuffs as he talks (someone behind me calls "leave your cuffs alone", but to no avail). As the set list moves on, his performance becomes more fluid. No matter - we're loving it - a few tragics in addition to myself are even able to mouth along to some of the lyrics. No placebo (one of the best tunes on the album) pops up early in the show. He notes that with everyone sitting, he's going to have to do all the work. Um, so why do all the venues on the tour have seats, Pete? I doubt it was a conspiracy.
A bloke makes his way to the front, near Jay's chair, and appears to be slowly grooving while suffering a mild hernia. Eventually a staff member moves him along (unnecessarily IMHO) and it turns out his herniated posture is because he has been the most subdued air guitarist ever.
PG gives a bit of background to the album and individual songs - despite what I'd heard, not all popped out as he was writing the book. It still matters was written specifically to bookend the album, and introduces Only one as a love song for his beloved, and it's for anyone to slow dance to with their own loved one. A song called Coolangatta pops up - not on the album - not a cover either (mmm- a bit of road testing for anther solo album, or something he'll be offering to MO?) which he cryptically introduces a being related to another Adelaide venue called the Arkaba.
All the songs benefit greatly from the female backing vocals provided by Abbe May and the keyboard player (sorry, I've forgotten her name) - perhaps something the Oils can keep in mind for the new album.
Great white shark is another good un - introduced by referencing BHP's plans to drill for oil in the Great Australian Bight. He mentions federal govt permissions for it, then suggests maybe it can be stopped at state level - and looks straight at Jay, and says something like "How about it, Premier?" with a cheeky grin. The audience cheers.
When they rip into Bus to Bondi, the crowd erupts, and the Alter Egos do a great job of it. Drummer Pete Luscombe in particular seems to be really enjoying himself behind the kit.
As the album has only 9 tracks, PG elects to do some covers in addition to MO tracks. One of the last songs of the set starts with a great but unfamiliar bass groove - it eventually resolves itself into the most surprising of the covers - Free your mind by En Vogue, introduced by discussing the return of prejudice to parliament after the last election. Here's a bit from the Sydney show:
Part way through the gig, a small older chap appears, sitting at the edge of the stage. He is wearing a read suit and matching hat. I wonder if he's a local Adelaide muso about the get up on stage for a guest appearance. Nope. He claps along almost but not quite perfectly out of time to the music doffs his hat a couple of times, before eventually disappearing as mysteriously as he had appeared.
All of the MO songs are received rapturously. As the intro to The dead heart kicks in, those standing surge forward to the stage and lustily duh duh duh dah deh dad deh dah.Most of those seated stand, but not our premier - throughout the whole show, he maintains a dignified immobility (possibly to avoid the repeat of his famously getting his dance moves broadcast a few years ago) though he does tap his foot occasionally. I notice that it's the MO songs that really get Pete pumping - muscle memory I'd say - he's still getting body and mind in sync with his new songs.
The final encore concludes with Don't wanna be the one - the crowd goes ape and suddenly, it's all over.
I return on a high to the nocturnal chill. Two well dressed older couples join me at the train station. One fellow asks if I've just been to the gig. I answer in the affirmative - he smiles, says he's still great.
Amen to that.
Cheers
David
set list (thanks again to Spyro for posting this)
Kangaroo Tail
No Placebo
Only One
Coolangatta
Ego ( Skyhooks )
Bus To Bondi
Homecoming
Night And Day
Back To The Wall ( Divinyls )
Great White Shark
It Still Matters
I'd Do It Again
Tall Trees
Thou Shall Not Steal ( Carmody )
Dead Heart
Free Your Mind
Don't Wanna Be The One